Our hotel in Mont-Dore
The ideal place to stay to visit Auvergne and the volcanoes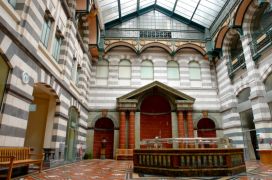 Our hotel and restaurant, at the foot of the ski slopes and hiking paths, is the ideal place to stay year round in Mont-Dore at the heart of the Massif du Sancy. In winter, the Mont-Dore family ski resort offers a host of activities. It boasts a skiable area of 41 km with 32 pistes of varying difficulty and 14 ski lifts including one cable car. Guests can enjoy 85 km of pistes with a connection to nearby Super-Besse.
In warmer weather, you will want to explore the Auvergne landscape surrounding the hotel on foot or on horseback. There is a meadow available for horses.
Mont-Dore and the Puy de Sancy is a hugely popular area for walks in Auvergne. Climbing the Puy de Sancy is an absolute must. The Mont-Dore cable car is an easy and enjoyable way to discover the highest summit in the Massif Central. Another enjoyable outing is the Grande Cascade, one of the highest waterfalls in Auvergne, which also offers splendid views.
The Mont-Dore is also a famous spa town with mineral water that stimulates the immune system, as well as well as unique thermal gas which are particularly effective treatments for rheumatism and trauma. The spas, inspired by the Caracalla spa in Rome, is listed as a historical monument. With its Byzantine, Romanesque and Art Déco design, the spa provides treatment in a pleasing atmosphere. Get back into shape and in touch with nature at the same time. To visit the architectural gem, the Mont-Dore spas are open afternoons from Monday to Saturday throughout the season.