Le Sancy in Auvergne
Discover the mountain from our hotel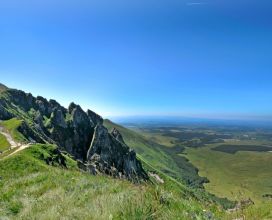 Le Puy Ferrand chalet hotel at the heart of Massif du Sancy invites you to discover Auvergne's natural surroundings. The mountain village of Mont-Dore at the foot of Puy de Sancy is a top leisure location both in summer and winter and a renowned health resort. From there you can explore the Chaîne des Puys which extend over 45 km and which includes around 100 volcanoes, lakes, waterfalls and the Dordogne river which is just a narrow and fiery mountain waterfall in Mont-Dore.
In these wonderful surroundings you can enjoy various activities related to the mountain such as skiing or snowshoe hiking at the heart of the Sancy ski region, hiking, on foot or by horse, mountain biking, paragliding, canyoning, fishing, swimming and many other activities on land, on the water or in the air!
Allow your taste buds to guide you to discover cheeses, meats, and other specialties of the Auvergne and Massif du Sancy region. Not to mention the famous Saint-Nectaire cheese. Le Sancy is also famous for truffade (a potato and cheese dish), cakes and even beer!
When you stay in our hotel and restaurant in the heart of the Auvergne Volcanoes Park, made up of five regions including Mont-Dore, you will discover just 45 minutes away, Vulcania, an immersive park where you can learn about volcanoes in a fun way with a range of sensory experiences and discoveries. The park is the only one of its kind in Europe, where visitors set off in search of the answers to questions for young and old on the fascinating world of volcanoes and planet Earth.