Discover the Puy de Dôme
From our hotel and restaurant in Mont-Dore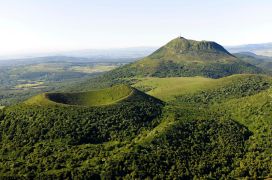 One trip is not enough to discover the entire diversity and beauty of the Puy de Dôme. Enjoy the nature reserves, rivers, valleys, and volcanoes including the highest of them, the Puy de Dôme which gives its name to the département, as well as two of the largest regional parks in France: the Volcanoes of Auvergne and the Livradois-Forez parks.
Our hotel and restaurant in Mont-Dore is located in the heart of this untouched nature, where there are plenty of get-aways and activities all year round. The Puy range and Limagne plains in Auvergne are listed as a UNESCO world heritage site, offering visitors a spectacular experience. The mountain range run north-south and includes no fewer than 80 volcanic summits. The highest point is the Puy de Dôme, at an altitude of 1465 m. Visitors can head up the volcano aboard the funicular train, the Panoramique des Dômes.
Our region is a must for lovers of hiking, with paths specially marked for families on holiday. It is also popular among lovers of outdoor sports all year round: Cycling, skiing, snowshoe walking, tobogganing, hiking, horse-riding, paragliding, canoeing, kayaking, lake swimming (in certified lakes of Lac des Hermines and Lac Chambon), ballooning, adventure trails, walking, antique shopping or simply relaxing.
As for cultural and historical activities, the Puy de Dôme is famous for its hill-top villages, superb castles such as the Medieval Château de Murol (25 km from Puy Ferrand), major regional Romanesque churches (Orcival, Saint-Nectaire, Issoire, Notre-Dame-du-Port in Clermont-Ferrand and Saint-Saturnin), and spas (Le Mont-Dore, La Bourboule, Royat, Châtel-Guyon)…